2004 - we sold our first bacon, sausages and hams at Usk Farmers' Market, made from our own rare-breed pigs.
2006 - our Snack Salami won a True Taste Silver Award
2008 - Two Star Great Taste Award for our Coppa and One Star for our Chorizo Salami
2009 - we won BBC Food and Farming Awards: British Food Producer Of The Year and were Country Living Magazine/Waitrose Made in Britain: Runner-Up
2010 - The Observer Food Monthly award for Best UK Food Producer, Local Food Hero Wales Winner and we moved into a much larger, bespoke production unit
2011- Great Taste Three Star award for our Beech-Smoked Air Dried Ham
2012 - Great Taste Three Star Award for our Welsh Lamb Carpaccio which also won us a Golden Fork for Best Welsh Speciality Food
2013- Two Star Great Taste Award for our Blood, Wine and Chocolate Chorizo
2014 - Pig and Poultry Marketing Awards:Taste of Excellence Award for Woodall's Cumberland Salami (which we produced)
2015- We started supplying Mexican restaurant chain Wahaca with a bespoke Spicy Melting Chorizo
2016 -Finalist in Delicious Magazine's Produce Awards for our Beech Smoked Air-Dried Ham
2017- James Swift named in the Telegraph Food Power List 2017: The 50 tastemakers changing the way we eat and drink
2018- Best Muscle Meat for our Air-Dried Pork Collar in The British Cured Meat Awards
2019- a Gold in our Monmouthshire Snack Salami. and silver in the British Cured Meat Awards for Air-Dried Beech-Smoked Duck Breast, Wild Boar, Pork and Red Wine Salami, Pressed Beef Brisket Pastrami and Trealy Boudin Noir
From our origins at Usk Farmers' Market to interviews with customers and friends. Discover why people choose us, their favourite products and a favourite recipe or two.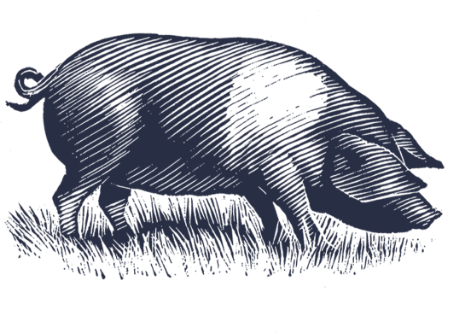 Childhood memories of thrifty self-sufficiency formed the inspiration for Trealy Farm Charcuterie, and the project was very much driven by the traditional peasant concept of Charcuterie as an everyday food and ingredient; something for all, and something affordable to all. No part of the pig was wasted; true nose-to-tail eating. James' Grandmother would make Boudin Noir in the kitchen of her Northern French Farmhouse. It was made with fresh Pig's blood and would be very slowly fried until one side was crisp, before being quickly flipped over for a few moments. This was served simply with apple sauce, baguette and salad - a true peasant dish, but utterly delicious. Our Boudin Noir, made as a tribute to her recipe, is a delicate, rich and smooth blood sausage, unlike any other British Black Pudding.
"The best artisan charcuterie in the UK"
Hugh Fearnley-Whittingstall
News
Our Monmouthshire Air-Dried Pork Collar, Mexican-Style Huetamo Chorizo and Fennel Salami went down a treat with Matt Tebbutt and his guests on February the 29th's episode of Saturday Kitchen. Showcasing Welsh produce to celebrate St David's Day, we featured alongside a host of other fab Welsh food and drink producers and our Pork Collar was declared "delicious" by drinks expert Helen McGinn.
Catch up here, while you can.
https://www.bbc.co.uk/iplayer/episode/m000g0c7/saturday-kitchen-29022020